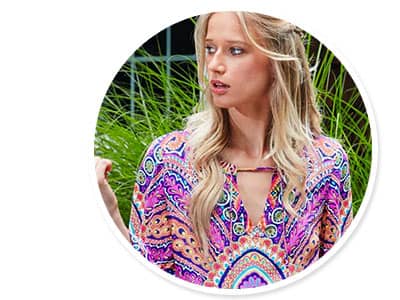 Alice & Trixie
De New Yorkse Angela Taylor George richtte in 1997 Alice & Trixie op. De ontwerpen van dit fijne boetiekmerk komen voort uit haar passie voor vintage, stijliconen en kunst. Dit resulteert in een unieke collectie die het beste te omschrijven is als bohemien glamour. De opvallende prints, felle kleuren en super chique silhouetten zijn perfect voor vrouwen die houden van chic met een vleugje sexy en vooral; een zelfverzekerde look.
More about Alice & Trixie
ABOUT THE BRAND
Angela Taylor George began at an early age with fashion scouting. She was determined to turn her passion into a career. Her career unfolded and eventually she became a representative of a designer. Thanks to her creative guidance Times Two was in the nineties a major launching pad for many powerhouses. Here she found her vocation as a designer and started Alice & Trixie in 1997. The collection was named after heroines of the 50s sitcom, The Honeymooners. Now Alice & Trixie has a large and loyal international following and the collection is sold in a higher segment and specialized stores around the world and since 2016 also online available at Little Soho.
THE SS17 COLLECTION
The brand Alice & Trixie is a combination of Angela's obsession for exploring vintage stores and global markets, her appreciation for style icons of the past and don't forget her passion for art. The brand is characterized by bright colours, bold prints and chic silhouettes. The collection has a bohemian but glamorous look that comes to life through the vivid prints. The spring/summer 2017 collection consists of a lot of dresses and blouses with different patterns, a lot of blue and the items are made of a luxurious fabric. Give your summer wardrobe a happy twist with the colourful silk top Piper and combine this items with your favourite jeans or go for the beautiful silk dress Victoria.
STYLIST'S FAVOURITES
The collections by Alice & Trixie are designed for the feminine, elegant, sexy and confident woman. Must-haves from the SS17 collection is silk jumpsuit Memphis, the silk cut-out dress Camilla and top Maeve. Combine the blouse with white or light coloured jeans and you are ready for this season.