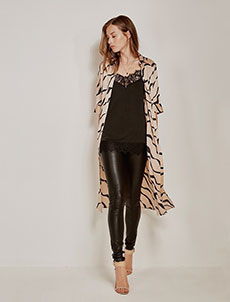 Dante 6
The beautiful and affordable luxury casuals collection of the beloved Dutch fashion brand Dante 6 set our fashion loving hearts on fire! The super stylish designs, gorgeous colors and pretty fabrics make Dante 6 an instant fashion favorite.
Follow this Brand
More about Dante 6
About Dante 6
Dante 6 is a gem of a brand from Dutch origin, that combines luxury with affordability since 2009. Founder Evelyn was inspired by poet Dante Alighieri, who in his work was always chasing ideal beauty. Dante 6 aims to do the same with her collections. Like the brand itself says: Dante is always surprising and always sincere!
The SS18 Collection
Women's clothing by Dante 6 is made with passion, and that shows! The fashion brand is luxurious yet casual thanks to the sophisticated fabrics and colours. The current spring/summer 2018 collection includes both soft colours like nude, natural and white, and darker colours like green, black, blue and brown. We really love the versatile leather skirts and leather leggings, which are perfect pieces to make any look standout. Dante 6's collection has something for every moment and every occasion!
Styling Tips
When you have plans to go out, Dante is there for you with their leather pants and skirts. Team them with one of the striped blouses for an astoundingly attire. A fan of the metallic trend? We sure are! Combine these sparkling designs with one of Dante 6's basics. Still looking for items of previous collections? Take a look at our online designer outlet!