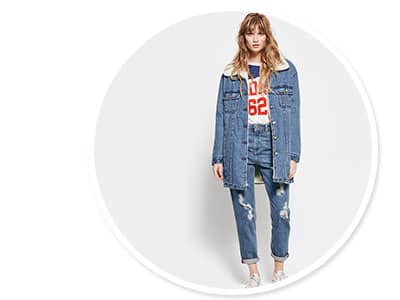 Lois Jeans
The iconic denim label Lois Jeans is back! Back in the days, around the early 60s, they were known for their all-time jeans classics, but they made a comeback with a collection of 'reinvented classics', consisting of elevated pieces like the iconic Lois flared jeans, Lois denim blouses and Lois checked blouses. A new closet essential is the stylish sweater with famous bull logo. Yes people, the bull is back!
more about Lois Jeans
About the brand
Lois Jeans conquered the world as the first European jeans brand, when it was founded in 1962 in Spain. The aim was not to associate jeans with cowboys and horses, but with pure fashion suitable for the dance floor. The brand was worn by icons such as Abba, Björn Borg, James Hunt and Johan Cruyff, so young people from all over the world were introduced to the wonderful quality and perfect fit by Lois Jeans. After a difficult period in the 90's, Lois Jeans is completely back, does its productions in Spain, its marketing and sales in the Netherlands and intends to stay for a long time at the top of the jeans branch. Our editors can only agree to that, because they love the perfect fitted flared jeans by this beautiful brand.
About The Collection
This season, Lois Jeans has fantastic jeans to give your outfit a statement look. The flared trousers are back again and there is no better brand to score these jeans at than Lois Jeans. The Flared jeans Melrose by Lois are the perfect reflection of the fine quality and great fit of the brand and its endless styling options. For example, wear it with an elegant blouse for a bohemian touch or with a statement T-shirt or sweater for an off-duty look. For a party, you can combine it with a festive top with lace or sequins and a white blouse gives it even a chic look. The collection also includes a timeless denim jacket which you can combine endlessly with all your everyday wear.
How to combine Lois flared jeans?
Flared jeans evolved themselves to a true fashion classic. The iconic Melrose flared jeans by Lois have a mid-waist, a comfortable stretch fabric and they are available in inseam 32 and 34. Wear these flared jeans with a pair of ankle boots with heel to create extra length in your look. Flared jeans look great with an oversized sweater or knit or a classic blouse and blazer. Wear your flared jeans to the office or a night out – One thing is for sure: flared jeans lift every look to a higher level