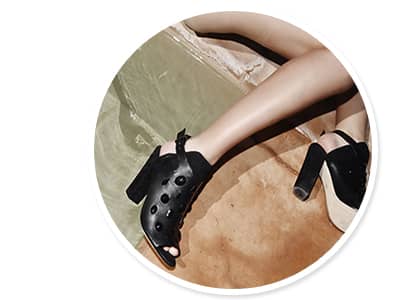 Morobe
The Belgian shoe band Morobé is founded especially for women who love modern, elegant and street couture shoes. The philosophy of Morobé is to build your outfit on your shoes instead of the other way around. Something we totally understand when we look at their striking designs. Whether you opt for a bohemian pair or the shoes with the rock & roll twist: Morobé ensures you with a sophisticated appearance.
Meer over Morobé
About the brand
Morobé is a Belgian shoe brand based in Antwerp. Morobé was created for woman who desire modern and elegant street couture shoes. Morobé has a special idea behind the brand; most people look for an outfit first and then decide which shoes they want to wear. Morobé thinks the other way around, they style their outfits base on the shoes they want to wear. We definitely understand their philosophy as we look at their beautiful eye-catching items and this makes Morobé so special.
Style Classics
Do you want a sophisticated bohemian look or a rock & roll twist? Then Morobé is the best brand to look at. Every season Morobé comes with eye-catching creations again and again. This season the white sneaker is back! You can style them easily with any outfit for a sporty-chic spin. Also boots with a western look are a must this season, so don't miss out on the style classics that ankle boots Fienne are.
StSoho's favouritesh5>
Everyone is secretly in love with a sophisticated style and so are Little Soho's stylists. That's why the peep toe heels Axcelle are one of their favourites from the FW17 collection. Would you rather go for a comfortable bold look? Then the leather sneakers Cannes are perfect for you to wear the whole year 'round. or you to wear the whole year 'round.